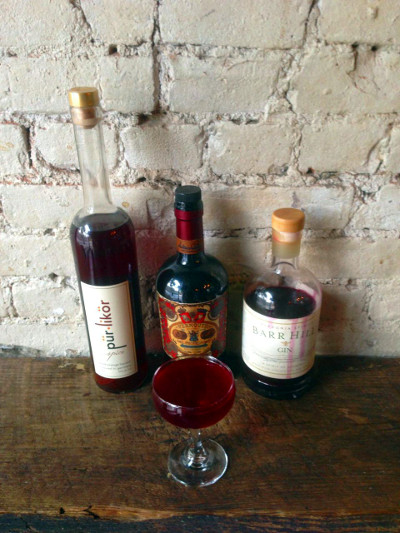 For those fed up with love, broken-hearted or happily bitter about V-Day
The Bloody Pisser
In England, taking the piss means that while you may sound serious, you aren't. You may be mocking. You may be satirizing. You aren't being flattering or nice.
Sound about right for this day of hearts and flowers? Your place is at The Jeffrey, where master mixologist, Jacob Tschetterr ("The Bearded Alchemist"), has a delicious red cocktail named to fit your mood. The Bloody Pisser may sound like a bitter blend of snark and circumstances, but the coupe contains a crafty concoction that will ease the dourest heart. Tschetterr infuses Barr Hill's raw honey gin with market-fresh beets. The infused honey is mixed with Pür spiced orange and Del Professore blanc vermouth. "In order to add a touch more bitter and enhance the aromatics," Techetterr says, "I flame an orange peel over the top." That's the touch of drama this day requires, whether you like Valentine's or not.
The Jeffrey draws a smart crowd, fans of rare craft brews and seasonal cocktails. Nobody's going to judge you for growling into your cocktail or cursing love in seventeen arcane languages.
Alone or in tandem, you can always stay at home with a bottle of red wine – but that's the thing. You can always stay home with a bottle of red wine. Valentine's Day comes but once a year. Go drink a ruby red cocktail in a place you've never been. The worst that will happen is that you'll fall in love with a drink. That's a passion you can happily share, any day of the year.
4/4
Photo via The Jeffrey

Recent Articles
The History of The Boulevardier Cocktail - and How You Can Make it at Home
Inside Look: Campari's Stylish North American Headquarters in New York
Behind the Bar: Liana Oster of Dante
Feedback
How are we doing? Tell us what you like or don't like and how we can improve. We would love to hear your thoughts!