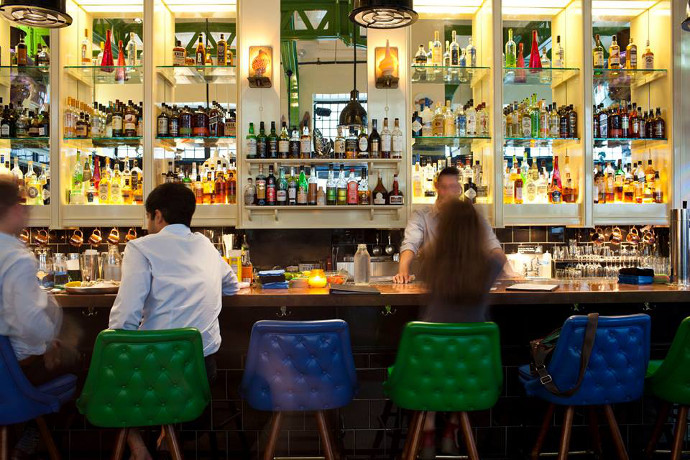 For those committed to love
The Yellow Rose
There are places you go for first dates, and there are bars so special you save them until you're as sure as you can be that this might be The One. If your true love truly loves fine cocktails, then The John Dory is a prime destination. Where drinks are concerned, The John Dory has the pedigree of a born thoroughbred; Sasha Petraske created its cocktail program. The space can be lively and bustling. For a quiet drink, if avoid the popular bar and restaurant hours, you'll find plenty of elbowroom.
The corner space's floor-to-ceiling windows give a feeling of openness and a sense that you can view the world, even while you're warm and safe inside. (Sounds like a good relationship, doesn't it?)
Bartender Chelan Finney has a ruby of a cocktail recommendation: "A charming take on the classic Jack Rose, the Yellow Rose is a darling drink created by the fabulous Bob Wagner." It's made with Laird's Applejack brandy, fresh lime and house-made grenadine "for that rich romantic hue."
Over the centuries, apples have served as symbols of love, wholeness, purity and goodwill. Grenadine is made from pomegranates, another fruit with a heated history. In Greek mythology, Hades, a brother of Zeus and the lord of the Underworld, fell in love with Persephone, kidnapped her and took her underground. (When it came to romance, the Greek gods were seldom subtle.) Persephone ate six pomegranate seeds. Those seeds bound her to Hades. Persephone's mother, Demeter, was the goddess of nature. She protested her daughter's kidnapping, as only a mother and nature goddess could. Meanwhile, down below the earth, Hades protested his love to Persephone and tried to persuade her to marry him. Eventually, a compromise was reached: Persephone would live above ground for half of the year – spring and summer, seasons of warmth and growth. For the other half – autumn and winter – she would live with Hades, as his wife.
With apples and pomegranates, attentive bartenders and a killer raw bar for when hunger strikes, The John Dory is the perfect place to celebrate a lasting love.
3/4
Photo via The John Dory

Recent Articles
The History of The Boulevardier Cocktail - and How You Can Make it at Home
Inside Look: Campari's Stylish North American Headquarters in New York
Behind the Bar: Liana Oster of Dante
Feedback
How are we doing? Tell us what you like or don't like and how we can improve. We would love to hear your thoughts!