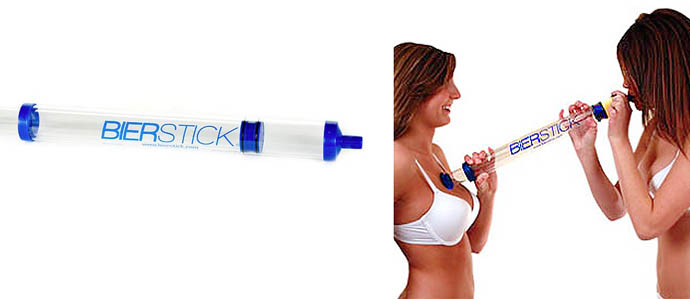 7. Beirstick
This invention solves two problems for humanity. First, for those who do not have the time to wait for gravity-fed beer bongs to empty, this syringe design will get your buzz on faster by simply forcing it into you. Secondly, have you ever tried to use a beer bong when you are home alone? It's like licking your elbow. Impossible. Now you can load up your Beirstick, find the closest wall, press, and pray it stays down. Or if you do happen to have a friend over - try it like the photo!

Recent Articles
Marriott Wants to Help You Launch Your Own Bar or Restaurant
Home Bar Project: How to Make a Hemingway Daiquiri
Just Three Months After Elysian Brewing Was Acquired by AB-InBev, Co-founder Dick Cantwell Resigns
Feedback
How are we doing? Tell us what you like or don't like and how we can improve. We would love to hear your thoughts!