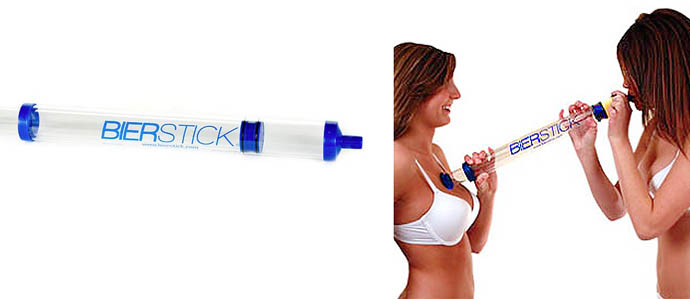 7. Beirstick
This invention solves two problems for humanity. First, for those who do not have the time to wait for gravity-fed beer bongs to empty, this syringe design will get your buzz on faster by simply forcing it into you. Secondly, have you ever tried to use a beer bong when you are home alone? It's like licking your elbow. Impossible. Now you can load up your Beirstick, find the closest wall, press, and pray it stays down. Or if you do happen to have a friend over - try it like the photo!

Recent Articles
South Dakota Man Arrested for Running Into Burning Building to Save His Beer
Finally, A 10-Pound Moscow Mule Exists in New York City
The Best Breweries Within 100 Miles of Philadelphia
Feedback
How are we doing? Tell us what you like or don't like and how we can improve. We would love to hear your thoughts!